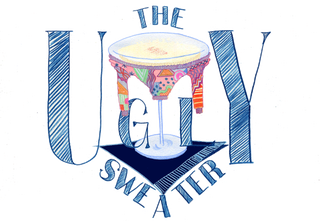 This is The Ugly Sweater.
(For gingerbread syrup: 1 cup sugar, 1 cup water, .25 cup minced fresh ginger, .5 tsp ground nutmeg, .5 tsp ground cloves, .5 tsp ground ginger. Heat all ingredients to a boil. Lower heat to simmer for 15-20 minutes. Let cool. Fine strain & keep refrigerated. Yields: 16 oz.)
David is an artist from Ridgewood, Quooklyn that makes drinks, drawings, and questionable decisions in the name of scientific regress. You can find him bartending at Huckleberry Bar when he isn't at his drafting table. Follow him @drawdavedraw.