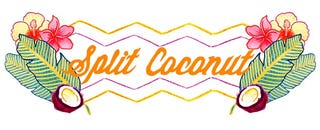 Welcome to Boozinette. This is the Split Coconut.
2 oz. spiced rum
1/4 oz. Coco Lopez
1/4 oz. Banane du Bresil
1/2 oz. lime juice
1/2 oz. Aperol
1/2 oz. cinnamon syrup
1 tiny umbrella
1/2 cup water
1/2 cup sugar
4 broken cinnamon sticks
Pour all ingredients into a pot and bring to a boil.
Lower heat to simmer for 15-20 minutes.
Strain, contain, let cool, and refrigerate.
Pour all liquid ingredients into a cocktail shaker with ice.
Shake like a wet capybara for 10-12 seconds.
Fine strain into a lowball over ice.
Garnish with a tiny umbrella and if you can't hear the seashore, don't worry. The soothing sounds of Kenny G will always take you there.
David is an artist from Ridgewood, Queens, that makes drinks, drawings, and questionable decisions in the name of scientific regress. You can find him bartending at Huckleberry Bar when he isn't at his drafting table. Follow him @drawdavedraw.