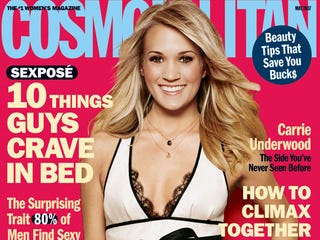 Oh, Cosmopolitan. What are we going to do with you? Apart from laughing until we nearly asphyxiate, because we're already doing that.
You really are a never-ending unintentional comedy factory, aren't you? Apart from the times when you suddenly and inexplicably become a repository for cosmic horror (such as that time you literally told your readers to give a guy an Indian rug burn on his junk), you're pretty reliably hilarious. Also, you seem to have a recurring obsession with combining food and sex, which sounds like a horrifying idea to me, but what do I know? I don't think first-degree burns on my groinal region are sexy. Clearly I'm too vanilla.
These quotes have been culled from a variety of different Cosmo articles. A few of them have already been mocked before on Jezebel, but why waste a golden humor opportunity if you can get two different jokes out of it?