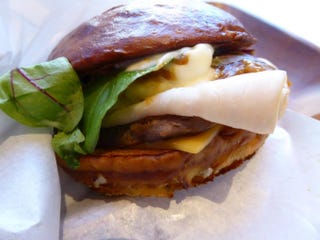 I mean...sure?
Your eyes aren't deceiving you: you're looking at a cheeseburger that has for some reason been topped with deli-sliced turkey, mashed potatoes and gravy, and greens, served on a pretzel bun. It comes in both burger and fried chicken sandwich forms. I am still waiting for someone to explain to me why it comes in any form at all or to whom it could possibly appeal.
Sadly for those with an excessive-compulsive turkey fetish and no problem with textural miasmas, the above monstrosity is only available from Wendy's Japan, so you can't get them anywhere else. Yes, I buried the lede. Sue me.
Image via Wendy's Japan/Facebook.