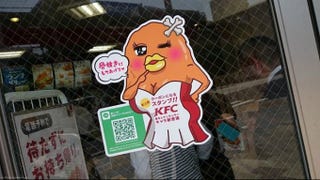 The above image has not been altered in any way.
Via Cosmo's Carina Hsieh, Comedian Danny Choo found the above ad, took a picture, and posted it to his Facebook page. The words coming out of its mouth translate to "I'll make it boneless for you <3," which in colloquial Japanese apparently means something like "you'll fall for me." In English, meanwhile, it's an accurate description of the effect this chicken nugget is going to have on any dude without a very specific fetish.
There are further ads featuring hypersexed poultry on KFC's website. Feel free to translate those voice bubbles in the comments; I'm sure knowing the thoughts and feelings of something that looks like the wife of Clayface from Batman on roleplay night will enrich all of our lives.
Image via Danny Choo/Facebook.
---
Contact the author at WilyUbertrout@gmail.com.