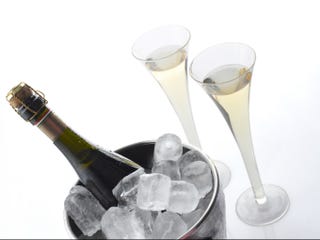 All across the state of Pennsylvania, bottles of sparkling wine have been spontaneously exploding.
Indigenous Selections Prosecco Brut 2013 (750 mL), featured since the start of this month for $12.99 ($12.99? That's some ritzy-as-fuck Prosecco, I get my shitty sparkling wine for half that) in 180 Fine Wine & Good Spirits stores across Pennsylvania, apparently started exploding shortly after the stores received them. As a result, the Pennsylvania Liquor Control Board and Association of Fermented Explosives Removal Specialists is recommending that people please for the love of God try to dispose of their sparkling time bombs quickly, and not to bring them back into stores. They can contact the stores for a full refund.
No word yet on what's causing the bottles to turn into grenades with a crisp, refreshing finish, which means "Ancient Babylonian Trickster God" is still technically in play.
Image via Gyorgy Barna/Shutterstock.