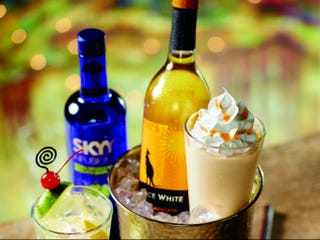 If you were to put together a list of "Foods That Sound Really Good at 3 AM After Your Fourth White Russian," where would the concept of a Wine Milkshake rank? For one company, apparently high enough that they're making this window into terrible decision-making a reality.
Remember Red Robin? They're the winners of the coveted Not Nearly As Shitty as Applebee's award for the past five years, and they've just come out with the Mango Muscato Wine Shake, which is going to retail for $7.49 a glass.
Ohhh, man, Red Robin. Way to trap me in a glass case of emotion here. On the one hand, I love Moscato, because I drink like a particularly prissy 15 year-old, mango-flavored anything is delicious, and I have a proven track record of making horrible decisions when it comes to food. On the other hand, it's a goddamn wine milkshake, what the fuck is wrong with me.